Kenmore West High School
Class of 1965
In Memory
Norma Billings (Teacher)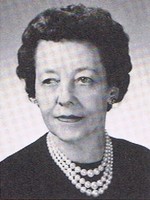 Norma Huntley Billings, 92, of Amherst, a retired teacher, died Wednesday (Nov. 28, 2001) in The Waters of Orchard Park after a long illness. Born Norma Huntley in Elmira, she was a 1929 graduate of Elmira College and taught high school Latin and English in Sayville, Elmira and Kenmore. She taught at Kenmore West High School in the 1960s. Mrs. Billings lived in Utica, Syracuse and Auburn before moving to the Buffalo area in 1950. A resident of the Town of Tonawanda and Amherst, she was a dedicated Girl Scout leader and volunteer for Meals on Wheels. One Thanksgiving, her daughter recalled, when there were to be no deliveries for Meals on Wheels, Mrs. Billings and her son, then a teenager, prepared and delivered a complete turkey dinner for the people on her route. She was an active member of Church of the Nativity United Church of Christ in Kenmore.
She and Jesse W. Billings, a New York Telephone executive, were married in 1936. He died in 1961.
Surviving are her son, Craig A. of Dryden, Mich.; her daughter, Dorcas Billings Taylor of Newport, R.I.; five grandchildren; and two great-grandchildren. A memorial service will be held at 2 p.m. Saturday in Church of the Nativity, 1530 Colvin Blvd., Kenmore. Burial will be next to her husband in Arlington (Va.) National Cemetery.