Kenmore West High School
Class of 1965
In Memory
Janice Zahno (Teacher)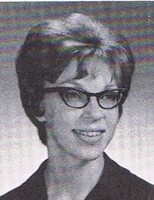 Janice A. Zahno, 60, who taught business classes at Kenmore West and Wilson high schools, died Tuesday (Jan. 28, 2003) in her home after a brief illness. Born Janice Beutel in Lockport, she moved to Ransomville in 1966. Mrs. Zahno was a graduate of Wilson High School, earned a bachelor's degree in education from the University at Albany and did postgraduate work at Niagara University. She married Randall Zahno in 1964. Mrs. Zahno had taught at Kenmore West High School from 1964 to 1968 and at Wilson High School from 1977 until retiring in 2000. She was a member of Fillmore Chapel United Methodist Church and the State Retired Teachers Association. The wife of a grape farmer, she was a member of the National Grape Cooperative.
Mrs. Zahno also had been a leader of a Bible study group at Ransomville Free Methodist Church and was active in the Niagara County 4-H and Horse Club.
In addition to her husband, survivors include two daughters, Camille S. of Odenton, Md., and Tricia L. McEvoy of Ransomville; a sister, Suzanne Zahno of Ransomville; and two grandchildren. Services will be held at 11 a.m. Saturday in Hardison Funeral Home, 3648 Ransomville Road. Burial will be in North Ridge Cemetery, Cambria.