Kenmore West High School
Class of 1965
In Memory
Raymond Frazier (Principal)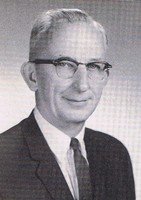 Raymond Frazier, retired principal of Kenmore West High School, died Friday (July 31, 1998) in Kenmore Mercy Hospital, Town of Tonawanda, after a short illness. He was 97.
Born in Plattsburgh, he graduated from Plattsburgh High School and attended the U.S. Military Academy at West Point in 1920. He graduated from Plattsburgh State Normal School in 1922. He taught for two years in Alexandria Bay High School before accepting a teaching position in 1924 in the business department of Kenmore Senior High School. He became department head in 1925. He earned a bachelor of science degree in 1928 and a master's in education in 1935, both from the University of Buffalo.
Frazier was assistant principal of Kenmore High School from 1927 to 1952, when he succeeded Roy Freeman as principal, a post he held until retiring on July 1, 1970.
In his last year as principal, Frazier supervised 2,735 students and a teaching staff of 135 at Kenmore West. For a number of years, Kenmore West was the largest high school in upstate New York. It divided into Kenmore West and Kenmore East in 1959.
Frazier was a former president of the Kenmore Teachers Association and the Niagara Frontier Athletic Association. He also was a former member of the Alexandria Bay Masonic Lodge, Kenmore Kiwanis, National Education Association, New York State Teachers Association and the state and national principals associations. He was an honorary life member of the New York State Congress of Parents and Teachers.
In 1990, Frazier was listed along with others on the Hall of Honor Corridor in Kenmore West High School. In 1997, he was elected to the Kenmore West Athletic Hall of Fame.
Frazier served two three-year terms on the board of trustees of the Kenmore Presbyterian Church, one of which was as treasurer. He also served two three-year terms as a church elder.
Frazier's first wife of 56 years, the former Gertrude Cummings, died in 1979.
Survivors include his wife, the former Lois Anderson of Kenmore; a daughter, Mary Lou Chittenden of New Bern, N.C.; a son, David of the Town of Tonawanda; a stepson, James Anderson Jr. of Takoma Park, Md.; a step-daughter, Holly Conner of Ellicott City, Md.; eight grandchildren, five stepgrandchildren and 14 great-grandchildren.
A memorial service will be held at 10:30 a.m. Monday in Kenmore Methodist Church, Delaware and Landers roads, Kenmore.