Kenmore West High School
Class of 1965
In Memory
Richard Kermode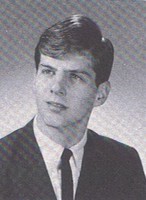 Richard Kermode
Richard was one of the most respected musicians in Buffalo in the 1960's – wanting to be a jazz player. When Richard left WNY in 1969 to take that immense talent to California as one of Buffalo's premier jazz keyboardist, he had no way of knowing he would end up on multi platinum and gold albums as keyboardist with both Janis Joplin, with whom he recorded "Kozmic Blues" and with Carlos Santana. From his days at the Ontario House, Richard's career took him to television appearances on Ed Sullivan, to Carnegie Hall, and to touring with the likes of Joplin, Santana, and Malo. He recorded with those stars as well as Patti LaBelle. He even experienced Woodstock first hand as keyboardist for Janis Joplin. He passed away in January of 1996 at the age of 49.
**********************************************************************************************************
RICHARD KERMODE , JAZZ-ROCK KEYBOARDIST
2008 BUFFALO MUSIC HALL OF FAME INDUCTEE
Services were held last month in Denver for Richard Kermode , 49, a jazz-rock keyboardist with Buffalo roots who played at the Woodstock rock festival with Janis Joplin and recorded with Carlos Santana. He died Jan. 16, 1996, in Denver General Hospital after a brief illness.
Born in Lovell, Wyo., he grew up in Buffalo and displayed his talents on the Hammond B-3 organ while still in his teens.
Playing in a jazz trio called Milestones, he became a star attraction in the Ontario House in Niagara Falls, where he played four nights a week for more than four years in the mid-1960s.
"Richard came to me when he was about 17 years of age," said Ontario House proprietor Bob Minicucci and he was a tremendous, tremendous artist. "Many people came to see him; many musicians, too. One night when (legendary jazz organist) Jack McDuff was in town, he dropped in. That was really an honor."
Kermode moved to San Francisco after he was called by Janis Joplin as she was forming her Kosmic Blues Band.
He returned to Buffalo in the early 1970s to play in Memorial Auditorium with Malo, a group led by Carlos Santana's brother, Jorge. Kermode then joined Santana and recorded three albums with the group.
Jazz vocalist Flora Purim sang one of his songs, "Yours in the Light," on the "Welcome" album. His work also was featured on the "Lotus" album, a Japanese release that became highly prized as an import album here. He also recorded with Patti LaBelle, Luis Gasca, Pete Escovedo, Airto and Purim. He developed a passion for Latin music while playing with Malo and worked with numerous Latin jazz, salsa and Brazilian bands. He last performed in Buffalo in 1989, filling in for the late Stan Szelest in a club band and taking part in a West Coast-Buffalo Reunion jazz show in the former Cafe Casablanca. Minicucci held a benefit show for him in the Ontario House in 1990 when he was recovering from near-fatal kidney and liver ailments.
He was able to resume his musical career and in recent years played in bands on USO tours, entertaining U.S. military personnel around the world. He toured South Korea last summer and followed that with a number of solo dates in his favorite foreign destination, Japan.
He moved to Denver in 1994 to work on salsa music projects.
Survivors include his wife, the former Gail Knox; three sons, Eric Kermode, Jeremy Kermode and John Barrios, all of the San Francisco area; a daughter, Adrienne DeMonico of Niagara Falls; and a sister, Trish Dehn of Concord, Calif.